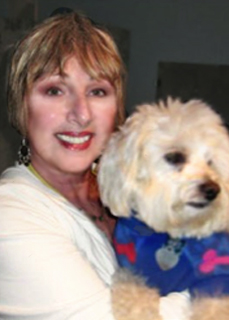 Susan Collard
DIRECTOR AND FOUNDER, ASHEVILLE CONTEMPORARY DANCE THEATRE
Susan has been dancing all her life. She grew up studying Classical Ballet and was introduced to Modern Dance at the age of 20 through a graduate student at Temple University in Philadelphia. She transitioned into Modern Dance after many seasons of study at the American Dance Festival in Durham, NC and The Colorado Dance Festival in Boulder, CO.
She's traveled extensively, deriving her choreographic inspiration from diverse cultural experiences. And has toured with her company Asheville Contemporary Dance Theatre to Cuba, France, Mexico, Canada and Colombia — creating international exchanges, with dance artists from these countries, along the way.
Recognized for her choreography inspired by female artists and international collaborations, Susan has also choreographed for film and theatre. She is currently working with international artists on a new collaborative venture White Dog Dance Project International.
Susan is the Founder and Director of the New Studio of Dance, and the creator of the Asheville Fringe Festival and 48 Hours Dance Project, as well as Asheville's first black box theatre The BeBe.
Giles Collard
CO-DIRECTOR, ASHEVILLE CONTEMPORARY DANCE THEATRE
Giles is the Co-Director of Asheville Contemporary Dance Theatre. He's lived abroad in France and Israel, and has performed internationally. Giles currently teaches Modern and Boy's Dance at The New Studio of Dance in Asheville. In addition to dance, Giles is a fencer and instructs students in Foil and Saber Technique. He has performed with ACDT since 1986 and most recently premiered his work at the Asheville Fringe Festival and Men Dancing IV.
Dancers
Caroline Althof
Caroline Althof Salas is an MFA graduate in Choreography from the University of North Carolina Greensboro. She holds a BA in Dance Education with K-12 licensure from Winthrop University. Althof developed the dance program at Alston Middle School in Summerville, SC teaching from 2007-2011. Upon completing her graduate education Caroline moved to Asheville where she became a company member with Asheville Contemporary Dance Theater in 2014. She currently runs the dance program at Asheville High School. Her more recent pedagogical research is focused on enhancement of the students' creativity and individual artistic voice. Choreographically, Caroline is interested in site-specific choreography and has recently begun exploring politically based themes as a method of resistance.
Ciera Budge
Ciera Budge was born and raised in the Central Valley of California where she trained at local dance studios. To further her training, she moved to New Mexico at the age of 17 where she received her modern dance training and continued to cultivate her artistry and choreographic vision. She then moved to Asheville, NC where she joined ACDT as a company member in the fall of 2018.
Sharon Cooper
Sharon Cooper began dancing at the age of five at Art-Is-House in Winston-Salem, NC. She later trained at UNC School of the Arts, starting in the afterschool program and then the Modern Dance high school program. In 2000, she graduated with honors from UNC-Charlotte with a BA in Dance and Communication Studies. Sharon has danced and choreographed with ACDT from 2000-2005 and again in 2010-present, performing in the US, Mexico and Cuba. She is also a co-founder and member of Accidentals Asheville, an improvisation based movement company. Sharon is excited for future work with ACDT.
Sara Derting
Sara Derting grew up in Alaska dancing with Alaska Dance Theatre. When Sara was in high school, she performed and traveled with the company. After high school Sara went on to graduate from the University of North Carolina School of the Arts with a BFA in Contemporary Dance. In 2011 Sara danced in Charlotte, NC with Kinetic Works. In the summer of 2012 Sara joined Asheville Contemporary Dance Theatre where she has been performing, choreographing and instructing. In 2015 Sara became a co-founder and member of the Accidentals, an improvisational dance company in Asheville. Sara is looking forward to what ACDT will be doing next.
Elizabeth Huntley
Elizabeth has a passion for dance, bodywork, movement, and creativity. Her interest in dance, exercise, and sports began at a young age when she started taking dance classes, playing tennis, and running track. Bodywork and dance has now become her career and joy. Elizabeth graduated from Appalachian State University with a B.A. degree in dance studies and a minor in education and Spanish in 2014. Her dance training is primarily in release technique and modern dance. She is a Classically and Authentically trained, 3rd generation Pilates instructor. She is also certified to teach Pole dance 1 & 2 and sultry pole through Aradia Fitness. Elizabeth has taught release technique, ballet, improvisational dance, somatic dance, Pilates mat and Pilates equipment classes, flexibility, exercise barre classes, cardio dance, pole dance classes, and dance conditioning classes. She has attended Pilates workshops and also has continued to develop her dance training through the American Dance Festival in Durham, NC and by attending release technique workshops at LaCantera in Mexico City, Mexico. Elizabeth has performed regularly with and taught dance for Asheville Contemporary Dance Theatre sense 2015. She also enjoys dancing with the Asheville Ballet from time to time. She has also choreographed for the Asheville Fringe Festival in 2018 and for "Women's Work" a dance event organized by Kathy Meyers Leiner.
Megan Jackson
Megan graduated Cum Laude from the University of North Carolina at Charlotte with a BA in Dance. After graduating, she danced with Roanoke City Modern Ensemble and taught various forms of dance at Roanoke Ballet Theatre. She has studied various styles of dance including Modern, Tap, Ballet, Jazz, Contemporary, Hip Hop, Latin styles, and Musical Theater. Also, she performed at the Greenbrier Resort as a Springhouse dancer. Megan has performed and taught with various studios/companies in Asheville and is thrilled to dance in her seventh season with ACDT and looks forward to their many artistic endeavors!
Maddy Koch
Maddy Koch grew up in Boone, NC where she danced through high school and at Appalachian State University for a semester before transferring to Maharishi University of Management in Fairfield IA. She studied Media and Communications with an emphasis in film. Dancing was limited in the small town of Fairfield, so Maddy turned to producing her own work and training at a local studio. She became a CrossFit instructor and yoga teacher. After graduating she moved back to Boone and continued her formal dance education at Appalachian State before going to the American Dance Festival in Durham, NC. ADF inspired her to move to New York City where she lived for a year and a half and spent a season dancing for Locomotive Artistries. After deciding NYC wasn't for her, Maddy wanted to take a break from dance. She moved to Nosara, Costa Rica where she surfed and taught yoga till moving to Asheville in 2017. Beginning to miss dance, Maddy began to take class with ACDT and joined the company in April 2018. Maddy now lives in Black Mountain with her partner and their fur babies. She's a massage therapist in private practice in downtown Asheville.
Gillian Maurer
Gillian grew up in Asheville, North Carolina and started dancing at a young age with the New Studio of Dance. As they explored various forms of dance and movement, aerial arts and acrobatics became the main focus of Gillian's passions and talent. Gillian began teaching aerial silks and acrobatics with ACDT in 2015. They continue to dance and teach workshops in aerial silks and acrobatics independently and with companies throughout the region. In addition, Gillian is a fine artist with an interest and focus on sociology. They find a great deal of excitement in finding new ways to fuse these multiple passions.
Sonya Monts
Sonya Monts has over 20 years of experience in the private dance studio setting. She previously owned and directed her own private studio, The Dancer's Extension, and was the dance teacher for Polk County Schools. She earned her Bachelor of Arts from Columbia College (SC), and in 2015 earned her Certificate in Dance Education from the National Dance Education Organization (NDEO). For the NDEO, Sonya has been a chapter sponsor for the National Honor Society of Dance Arts; adjudicated the Artistic Merit, Leadership, and Academic Achievement Award; served on the strategic planning committee; contributed to online member forums and serves on the editorial board for the Dance Education in Practice journal; and presented her work at the state and national levels. After thorough review of her teaching portfolio, Sonya became a Registered Dance Educator in 2014. In 2016, Sonya was named NDEO's Outstanding Dance Educator – Private Sector.
Edwin Salas (guest artist)
Edwin Salas is mainly a soloist puppeteer with a background in dance. In the past 20 years Edwin has performed dance and puppetry in Italy, France, Spain, Switzerland, Poland, Mexico, Cuba, Nicaragua, Costa Rica, Colombia, Ecuador, Belize, Guatemala, the United States, and Taiwan. He produced "Brujerias de Papel" in Italy and "Project 8" in collaboration with other companies from around the world. Edwin's principal artistic language is in puppetry, but he loves to incorporate contemporary dance, physical theater, Butoh, and experimental noise into his work. He learned to dance from amazing teachers in Italy, Mexico, and France.
Gina Sassano
Gina Sassano relocated her family to Asheville, NC from Los Angeles, CA in the fall of 2017 and resumed dancing after a long hiatus. She began her professional dance training at Lane Community College in Eugene, Oregon. From there, she went on to study abroad for a summer in Italy with Pro. After Italy, she moved to London to pursue a BA in dance and choreography from London Contemporary Dance School at The Place and University of Kent in Canterbury, UK. She has performed internationally and is thrilled to be back on her feet with the Asheville Contemporary Dance Theater. In addition to dancing, Gina plays the piano and is passionate about the healing effects of music. She is also a proud mom of two beautiful young children who share her love for music and movement.
Becca Spritz
Becca grew up dancing for a small company called Amber's House of Dance with a background in gymnastics. She went on to study modern dance in college graduating with a dance minor from UNC Asheville. At UNCA she danced with an independently student run dance troupe called AiM, who performs in local festivals. She has now been dancing with Asheville Contemporary Dance Theatre since early 2018.
Melissa Wilhoit
Melissa Wilhoit began her dance training at Arlington Center for Dance at the age of five and received her Bachelor of Fine Arts in Dance from George Mason University. Melissa studied Teaching Methodology under Risa Steinberg in New York City, and completed the Professional Studies Program with the José Limón Dance Company additionally interning with the company and performing Limón, Sokolow, and Weidman repertory. Highlights of Melissa's career include dancing with Crossroads Dance Project in Washington, D.C. as well as for Diane Yates Biggs and Deborah Jinza Thayer and with and Buglisi Dance Theatre for the 'Table of Silence' project in NYC. Melissa's choreography has been performed by Crossroads Dance Project, Horizons Dance Company, Breath of Heaven Gospel Theatre, and Asheville Contemporary Dance Theatre, and has been presented in NYC at Soundance, the International Young Choreographer's Showcase, the Puffin Room, the José Limón Institute, the Whitney Altria, Chelsea Piers, the Time Life Hispanic Heritage Celebration, Arts in Bushwick, Secret Project Robot, Chez Bushwick, and Grace Exhibition Space and in Asheville on the Hendersonville Ballet and at the BeBe Theatre.
---
ACDT Board of Directors
Jim Julien
Joe Karpen
May Castelloe
Sandee Johnson
Dena Gettleman
Debbie Haeger
Rob Resnick
Rona Resnick