ACDT Guest Artist & Fundraiser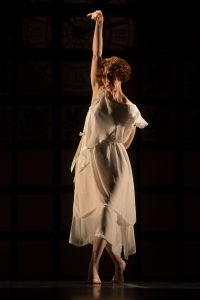 who: Asheville Contemporary Dance Theatre
what: Flavours of Dance
where: BeBe Theatre and New Studio of Dance   20 Commerce Street  Asheville,N.C. 28801
when: March 10, 2019  Performance at 6:00pm  dine at 7:15pm
how much $ 20.00 for entire evening
contact ladansfrog@acdt.org or call 828 254 2621
Asheville Contemporary Dance Theatre is celebrating 40 years of contemporary dance as a nonprofit continuing its international infusion into the Asheville dance theatre scene. As part of its mission, ACDT meets, greets and collaborates with artists from around the world. This season, Mexico City born dancer, Tatiana Zagazagoita will reside with ACDT and New Studio from Feb 18 through March 17, 2019. Her residency will include a performance of her work and some new ACDT co choreography on March 10 at 6:00 pm in the BeBe Theatre. Tatiana was trained in Russia studying Vaganova ballet technique and later Limon technique with Betty Jones . She currently lives in Mexico where she performs and teaches modern dance.
In addition to the performance, ACDT will host a dinner, featuring a LASAGNA "COOK OFF" where guests select their favorite recipe after tasting the various types of lasagna. The dinner will include, a salad, desert and drinks as well as the lasagna. There will be vegan, gluten free, veggie, Mexican and regular lasagnas to taste. Bring your appetite for both dance and lasagna for a delicious evening at the BeBe Theatre.
---
Asheville Contemporary Dance Theatre (ACDT) is a non-profit professional dance company created in 1979. We believe that everyone is a dancer and through art and inspiration, the company illuminates the points of intersection that exist on both intellectual and emotional levels, and our diverse repertory reflects both traditional and experimental forms of modern dance.
We are celebrating 47 years of dance in Asheville. The New Studio of Dance was founded in 1970. It is the school of Asheville Contemporary Dance Theatre, which performs regionally and abroad. The school prides itself in taking the novice dancer through the many stages of technical and artistic development to perform at a professional level in this culture and abroad.