The Nutcracker and the Mouse King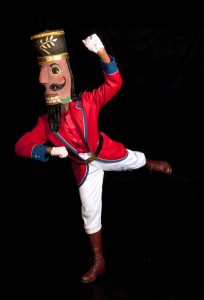 Where: Diana Wortham Theatre, Pack Place, Asheville NC 28801
When: December 1st at 7:30 pm and December 2nd at 2:00pm and 7:30 pm
How Much: $28.00 general admission, $20.00 children, students and seniors $23.00
More Info: Call 828-257-4530 for reservations or additional information or visit www.dwtheatre.com
A GREAT WAY TO KICK OFF THE HOLIDAY SEASON!
Expect the brilliantly unexpected from Asheville Contemporary Dance Theatre's fourth annual performance of The Nutcracker and the Mouse King. ACDT shocked and surprised audiences last year with their original version of The Nutcracker. Though The Nutcracker might be the world's most famous ballet, if it is being performed by ACDT you can guarantee it is something you haven't seen before. Their version couldn't be farther from Tchaikovsky's famous ballet. It is based on the original and much darker story written in 1816 by German author E.T.A. Hoffmann.
"I always want to go back to the original work" artistic co- director Collard says. "The characters and the story are always so much more interesting." Take for example the King and Queen of Sausages who surprised and delighted last year's audience with delightful humor and the party guests wrapped in gorgeous costumes dancing a wild and wonderful polka. And then there is the famous Mouse King and his lovely wife and their numerous children creating havoc all over the ballet with magical aerialists flying over head creating a surrealism to visually delight all ages.
This year's performance features the ACDT adult company, White Dog ProjectX International, and the students of New Studio of Dance. With typical ACDT flair, The Nutcracker and the Mouse King will again prove to be a wonderful Christmas story full of adventure, courage and loyalty where love comes alive in a spectacular modern dance experience.
---
Asheville Contemporary Dance Theatre (ACDT) is a non-profit professional dance company created in 1979. We believe that everyone is a dancer and through art and inspiration, the company illuminates the points of intersection that exist on both intellectual and emotional levels, and our diverse repertory reflects both traditional and experimental forms of modern dance.
We are celebrating 47 years of dance in Asheville. The New Studio of Dance was founded in 1970. It is the school of Asheville Contemporary Dance Theatre, which performs regionally and abroad. The school prides itself in taking the novice dancer through the many stages of technical and artistic development to perform at a professional level in this culture and abroad.