Now Playing at the BeBe Theatre
The 38th Annual Bernstein Family Christmas Spectacular!
The Magnetic Theatre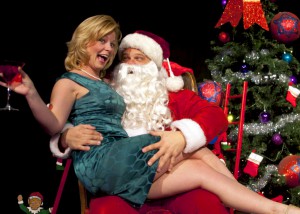 December 4-5, 11-13, 18-20 2014 from 7:30 PM to 9:30 PM (EST)
Tickets: $23.57
Asheville's favorite, raunchy, screwball holiday comedy from The Magnetic Theatre returns this December with The 38th Annual Christmas Spectacular!
The bawdy, bodacious, and boisterous Bernsteins are back, and they've got some special surprises in store for old fans and new friends! Judy Bernstein (Tracey Johnston-Crum, voted best actress in WNC in the Mountain Xpress poll three years in a row) is ready to get up close and personal with audiences at the Bernsteins' most intimate venue yet – the BeBe Theatre in downtown Asheville. "I just can't wait to get cozy—very cozy—with all of Asheville," Judy said with a wink in a recent interview.
The Bernsteins will bring their signature mix of skits, songs, dance numbers, and excessive drinking to the BeBe for a limited run (which will, as with all Bernstein Spectaculars, be for mature audiences only). The show is expected to sell out as usual, so get your tickets early for this year's Spectacular, which the Asheville Scene has called "the Christmas show to see in Asheville."
The 38th Annual Bernstein Family Christmas Spectacular
Performances Dec. 4-6, 11-13, 18-20, 7:30 nightly, with 10:00 pm performances on Fridays and Saturdays, Bebe Theatre, 20 Commerce St (just down from the basement entrance of the Thirsty Monk). Advance tickets highly recommended. All advance tickets are discounted $2 from purchase price at the door.