BASURA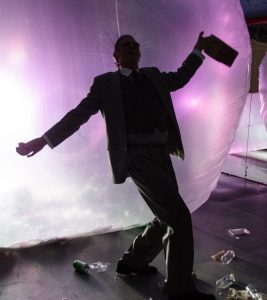 Installation performance art by Susan and Giles Collard
In a world of mindless consumption and plastic pollution there is a simple
answer to this plastic problem that could be as simple as STOP BUYING! But
the plastic has an ego of it's own. As this piece could be considered
either disturbing or humorous and maybe even beautiful…only the viewer
can know.
RECYCLE! NO ! just stop buying .. our landfills are a failure
short and sweet BASURA
---
Asheville Contemporary Dance Theatre (ACDT) is a non-profit professional dance company created in 1979. As western North Carolina's first professional modern dance company, they believe that everything everywhere is dance and everyone is a dancer. ACDT is devoted to local and international work, forging collaborations and partnerships between Asheville artists and dance artists from around the world.