The Josephine Cabaret ( an evening of song and dance)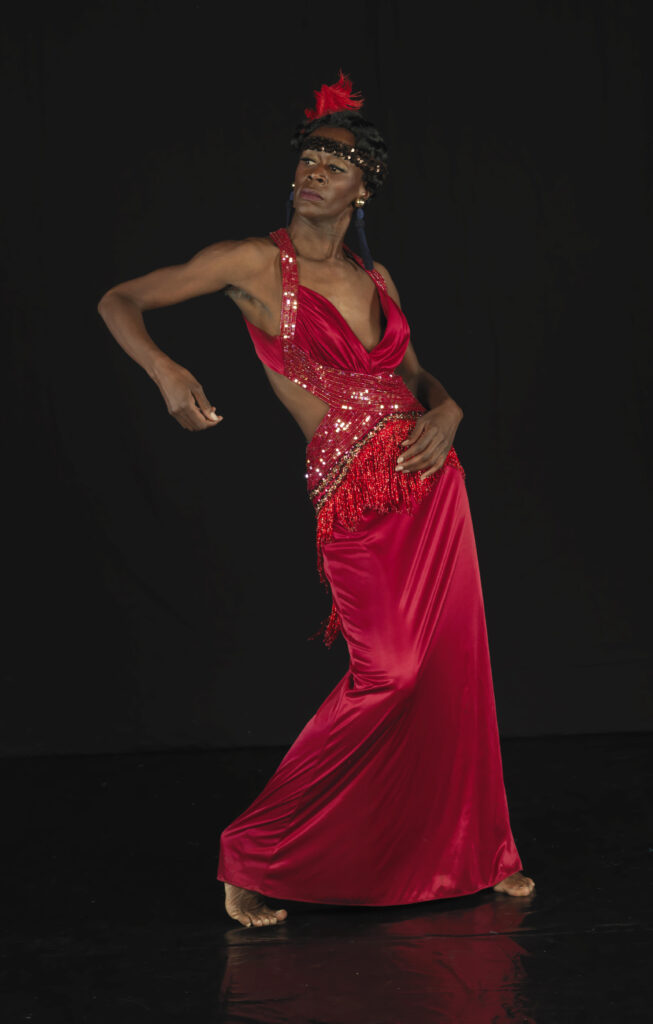 The Josephine Cabaret, coming to the intimate BeBe theatre in Oct. 2022 will boost your spirits as you move to rhythms of the 1920s and 1930s jazz era.
In honor of the well known cabaret singer and dancer, Josephine Baker, Asheville Contemporary Dance Theatre will present a celebration of her life through dance, theatre and song.
Josephine Baker, La Sauvage Noire , became famous through her amazing dance and song style, stunned her audiences with high energy dance and electric show womanship in the USA and later in France where she remained for most of her career. she is now considered one of the most inspirational African American female artists in the world.
For two weekends in Oct, the BeBe theatre will be transformed into a French Cabaret setting with little round tables, open bar, dancing waiters and a singing bartender.Hors d'oeuvres will be served with beer and wine.
Entertainment will be provided by singing and dancing artists.
Sharon Cooper, a 30 year veteran of ACDT dance co will do the honor of dancing the role of Josephine. She will be supported by co members Diana Cabrera, Angela Gorman, Melissa Wilhoit, and apprentice Kylie Gaitonde.
CoCo Dulce will sing the songs of the cabaret bartender with local celebrity artist Becky Stone. Other local performers will include the Men Dancing Co. Lars Clark, Raj Bowers- Racine and Sky McDowell.
Vernacular choreography by SusanCollard and Melissa Wilhoit
Master of ceremonies is Giles Collard
Time for a party! Come dressed in your favorite 1920s & 30s outfit and get a surprise. Let's party with Josephine
Tickets on line at TuTu Tx under ACDT Josephine Cabaret
Limited seating. Do not wait
When: Fridays Oct 7 and 14, Saturdays Oct 8 and 15 at 8:00 pm 2022
Where: BeBe Theatre
Info and tickets: $20.00 @ Tu Tu tx
Download program
---
XOCHI and POPOCA: An Aztec Legend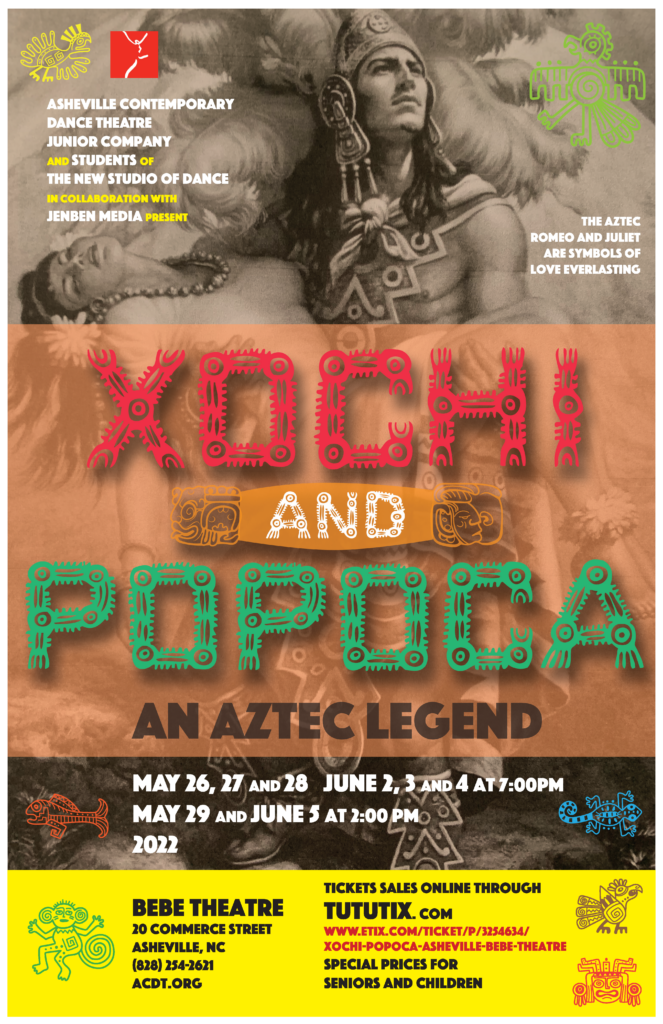 Every culture has a Romeo and Juliet love story, even the pre-Hispanic cultures.Popoca and Xochi are the Aztec Romeo and Juliet who were denied their love while alive, but destined to spend eternity together. Now, as two snow covered volcanoes that set the backdrop for Mexico City, Popoca And Xochi, as they
40 years of Dance Theatre: A Retrospective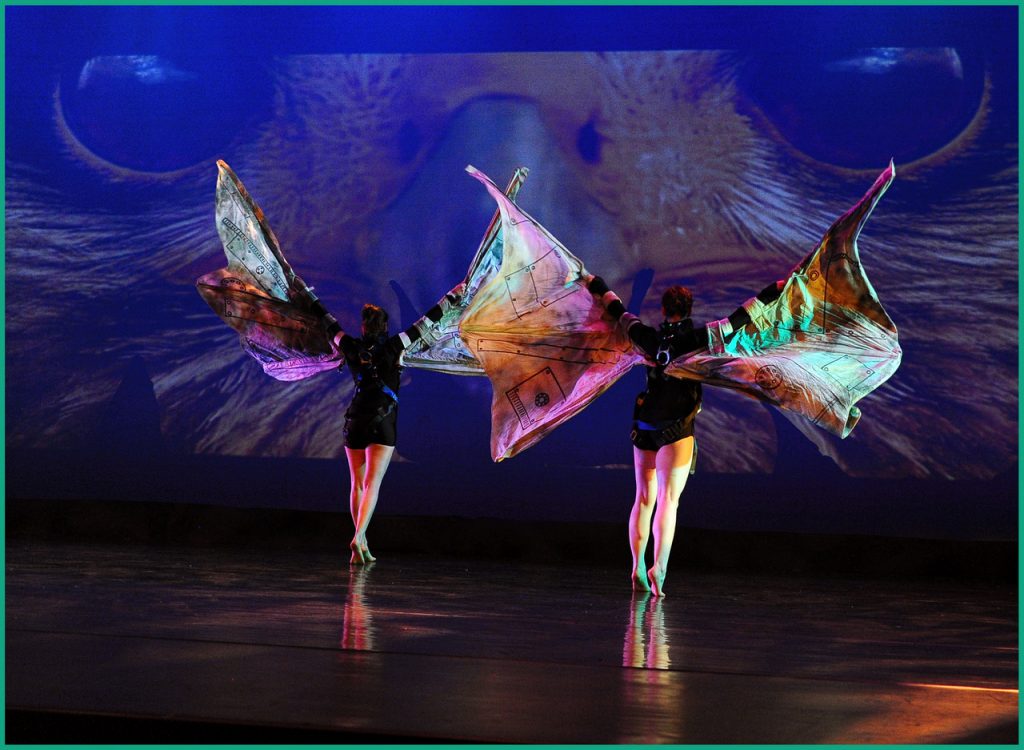 40 Years in the Making!!!
What happens when 5 young women come together to find a missing component in their dance community? They create their own, they create what is missing with passion, experimentation and hard work.
Was it a struggle? YES. Did they give up? NO. Was it successful? YES. And it developed into: ACDT/ White Dog Project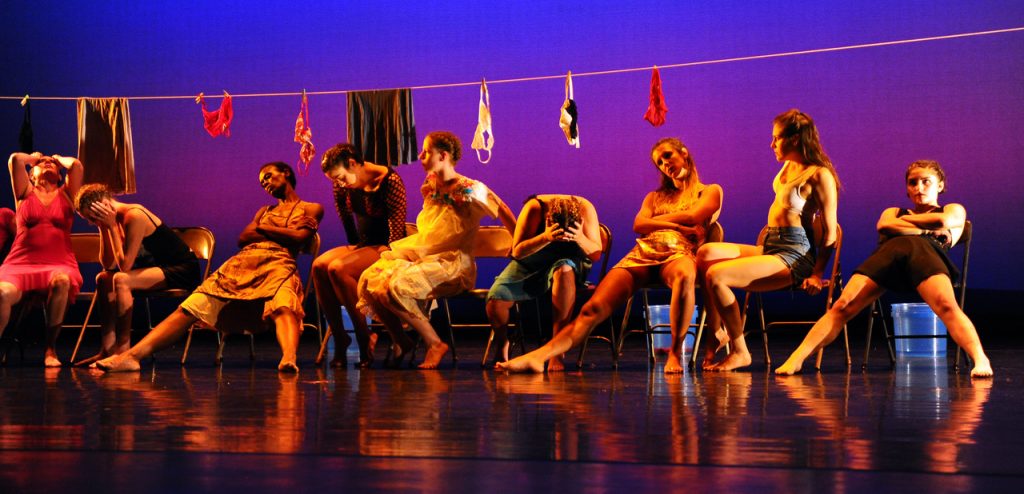 For 40 years ACDT has been successfully creating modern dance theatre for communities of Western North Carolina and the State, as well as the South East of the USA. The company, now directed by Susan Collard, one of the founding members, and Giles Collard, has travelled abroad to France, Cuba, Colombia, Canada, and Mexico. There, the company has performed and taught classes, creating relationships with artists from abroad, bringing new ideas and concepts into our communities and many times creating strong collaborations and lasting friendships with the visiting artists.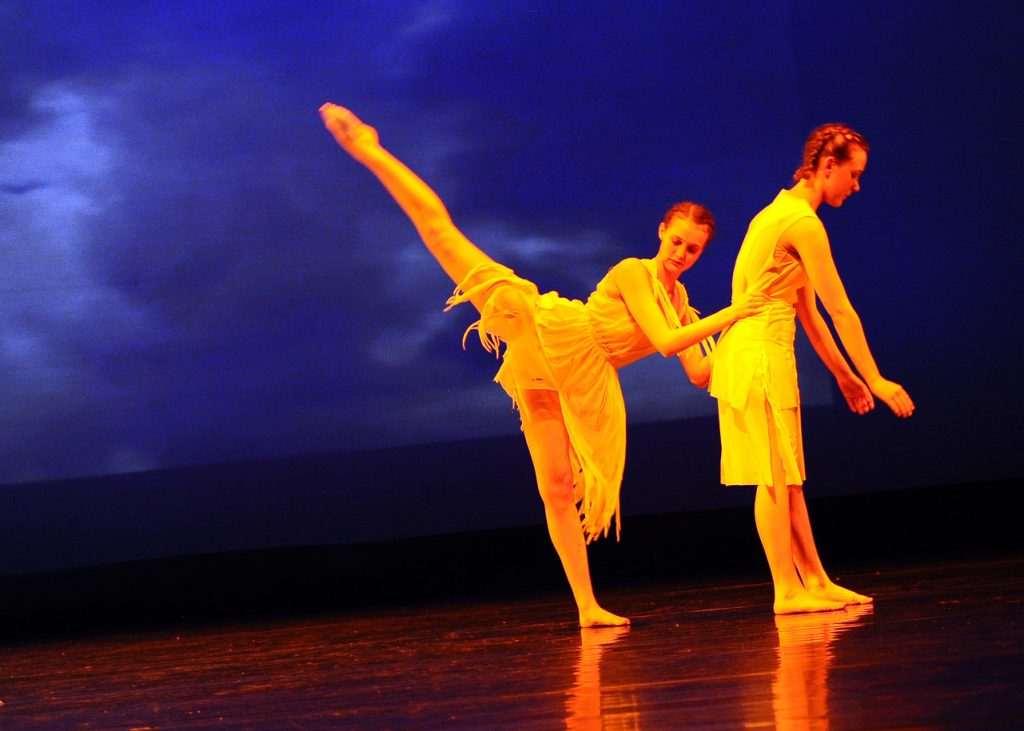 This season marks 40 years of successfully performing and creating original dance art such as Birds of War,Looking for Frida, The Loves of Tina Modotti, The Women of Calle 58, Shalva, Zelda and Scott Dances, The Obsession of Dali, Death by Plastica, just to name a few. And to celebrate the longevity of its existence, ACDT will perform excerpts from of some of its favorite ballets as well as a presentation of some of the works and documentaries created by video artists like Melika Bass and Blind Dog productions.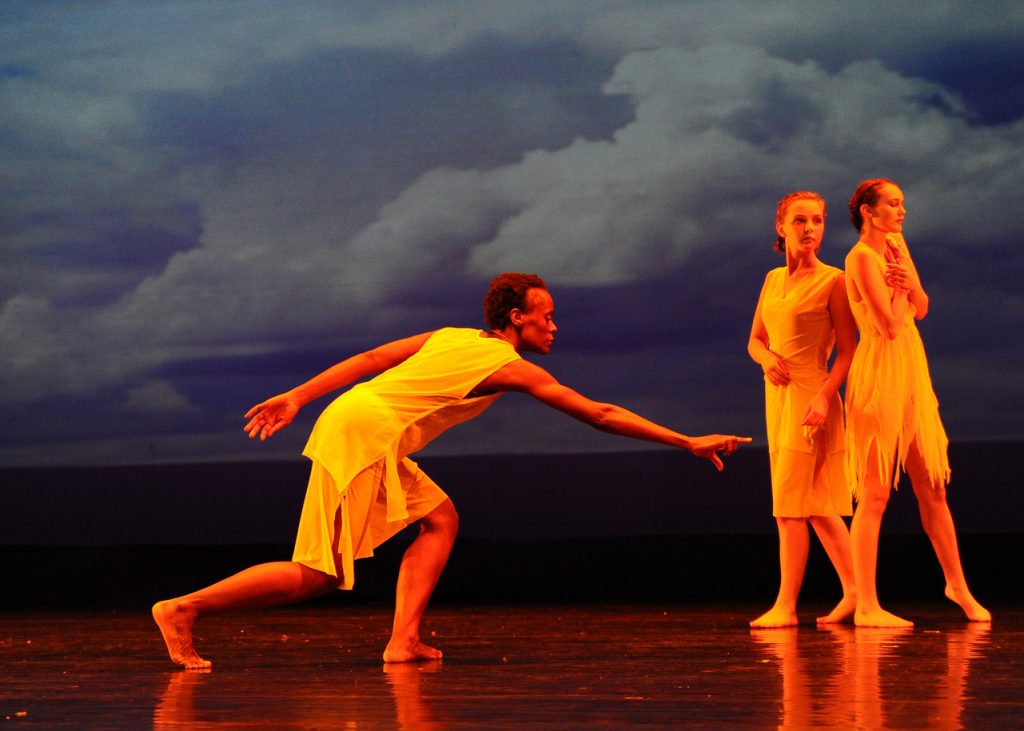 True to the mission to collaborate, there have been many types of artists involved in the creation of work with ACDT, such as Tyler Ramsey, Charlotte Adams, Julie Gillum, Sandee Johnson, Thierry Raymond, Jamie Camerena and many more. Some of these artists will grace the stage with ACDT once more.
Dance Salad an evening of tasty dance art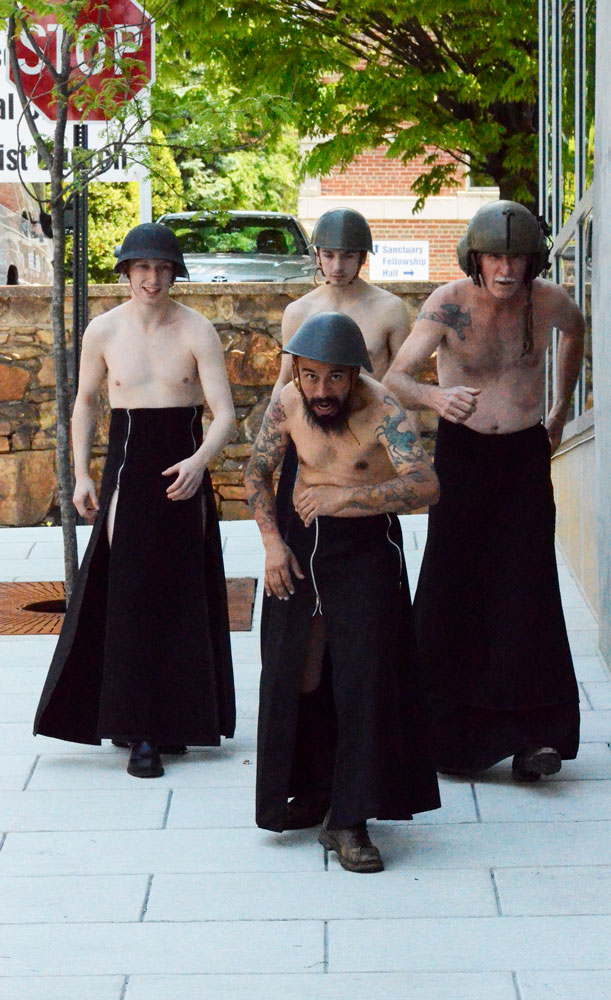 Every season, ACDT, Asheville Contemporary Dance Theatre, creates a showcase of new and original dance art, calling the performance "Dance Salad". This event will feature different, but similar, ingredients that come together to delight the appetites of dance lovers. This year's concert will introduce some new and exciting flavors to the dance scene. Asheville has become a center for emerging young artists to explore to their full potential and ACDT has become a hub for mentoring these talents. With its vision of exploration and tolerance of diversity, the company will present the voices of concern and fears as well as love and compassion for our present and younger generations. Their work is daring and provocative and timely.
This year`s concert will feature new work by Ciera Budge, Gina Sassano, and visiting Mexican choreographer Fanny Ortiz.
Also on the menu are some familiar faces in the dance scene, Sara Keller is presenting a piece about social issues in Alaska and Megan Jackson will present a heartfelt work about healing after cancer.
Susan Collard will premiere her new piece called "Rabbits" to remember what has happened in our past and a lighthearted piece about sexual identity.
Melisa Wilhoit`s piece is beautiful and romantic with a powerful influence of women helping women.
---
Death by Plastica. The Sugar Skulls event celebrating the Day of the Dead
Choreography by Nelson Reyes, Susan Collard,
Costumes and sets by Giles Collard and Eduardo Sousa
Music by Derek Dominy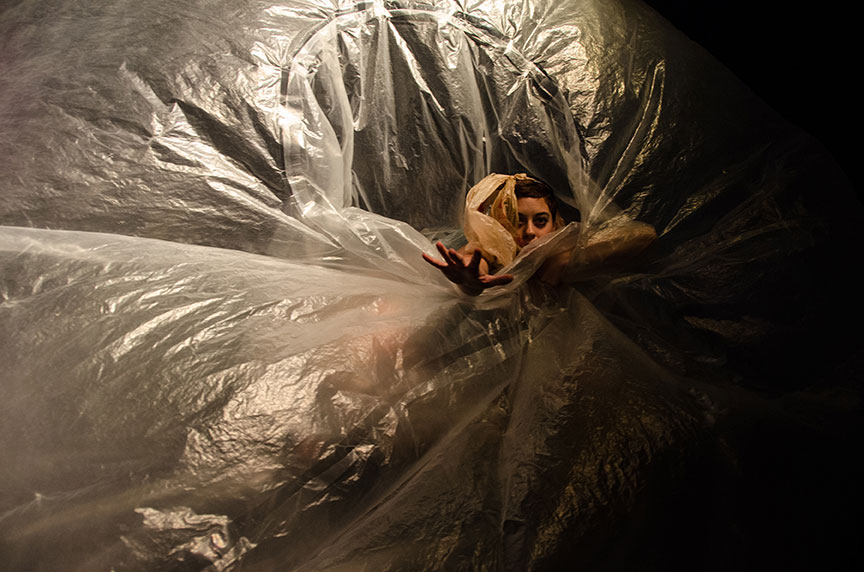 This is a big problem! When negative politics fill the airwaves, and the cycle of consumerism feels never-ending, we look to nature as a respite from the confusion. The natural environment offers us the building blocks for all things—the setting of society, serenity, adventure, the ability to breathe easy, life. However, the mountains, seas, wildlife, and ecosystems require our attention. If we continue to pump out plastic and transport it across the globe, smothering it with exhaust, we will kill nature and ourselves, committing suicide.Addressing these issues, Asheville Contemporary Dance Theatre has created an artistic statement to heighten awareness, premiering the original dance theatre piece "Death by Plastica." White Dog Productions with ACDT will perform their new creation as part of the annual Day of the Dead celebration. Collaborating on this piece are choreographers Susan Collard and Nelson Reyes, designers Giles Collard and Eduardo Sosa, original music by composer Derek Dominy, and performed by ACDT Dancers and guest artists.The evening will be full of surprises encouraging audience interaction with humor and drama. What can the audience expect? "Expect the unexpected with ACDT." ACDT is known for its innovative dance art, this is no exception. Delving into the problem of over-consumption, over-production, and over-dependence on plastic in many ways, shapes, and forms, societies mistakes become more apparent. With awareness comes solutions. Art is the educator, art is the answer.
---
Enneagram & Dance: A Double Feature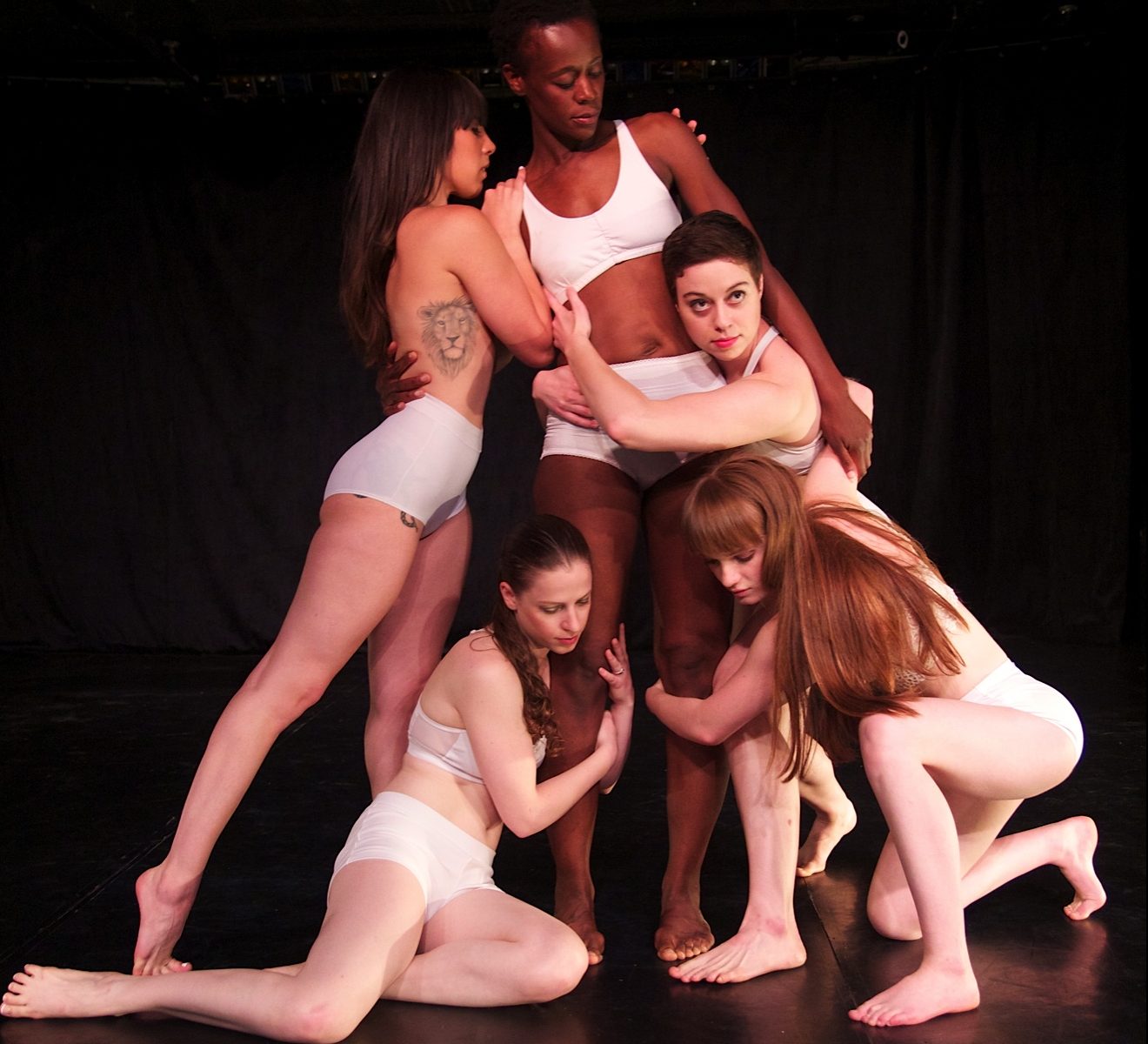 "None of the Nine"
Asheville Contemporary Dance Theatre has been busy with a new artistic collaboration. Mexican artist Daniel Alpuche and ACDT artistic director Susan Collard with 9 local dance performers have created a new piece that describes through dance the 9 different personality types known as the Enneagram of Personalities. The personality types from 1 through 9 are: the
reformer, the helper, the achiever, the individualist, the investigator, the loyalist, the enthusiast, the challenger, and the peacemaker. The Enneagram of Personalities is based on the idea that everyone fits into one or a mix of 2 or 3 of these nine personalities. Daniel and the dancers explore the strengths and weakness of the personalities types and how they interact with each other and interpret these concepts through dance, contemporary music, and theatre. This dance piece titled "None of the Nine" is animated and inventive. Hopefully the audience will find a piece of their own personalities within the ACDT characters.
"Shattered – A Transformation"
As part of the evenings' "Double feature" ACDT will premier Coco Palmer Dulce's new work, "Shattered." On a more serious note, "Shattered – A Transformation" addresses abuse and domestic violence and the human ability to heal. It is based on the knowledge that physical scars of abuse and rape will heal in time, but the emotional scars will continue to be held within the victim's mind, body, and spirit. It is estimated that a woman is attacked every 15 seconds in the U.S. One in three women are affected by violence globally. This dance theatre piece looks to explore how we can
further facilitate more awareness, understanding, and healing in order to help end the epidemic of sexist, physical assault, and how victims can begin to heal. Not to be missed! ACDT again reaches out to the community to network and understand the human condition of undiscovered personalities and healing. Part of the proceeds of these performances will go to Helpmate, a local domestic violence agency who gives victims shelter,
safety, and support.
---
BASURA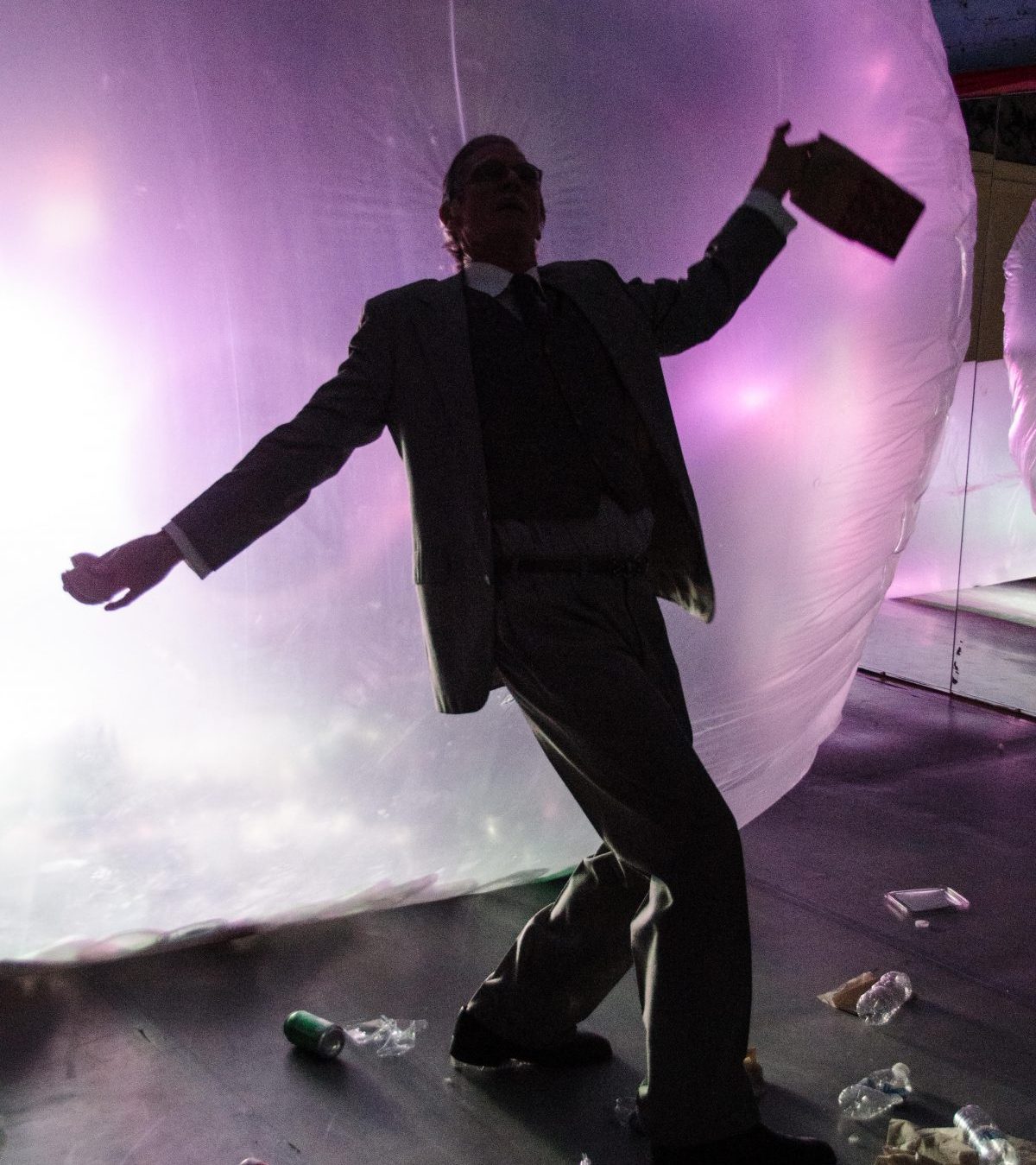 Installation performance art by Susan and Giles Collard
In a world of mindless consumption and plastic pollution there is a simple
answer to this plastic problem that could be as simple as STOP BUYING! But
the plastic has an ego of it's own. As this piece could be considered
either disturbing or humorous and maybe even beautiful…only the viewer
can know.
RECYCLE! NO ! just stop buying .. our landfills are a failure
short and sweet BASURA
---
THE LITTLE MERMAID
A dance theatre performance based on the classic fairy tale by Hans Christian Andersen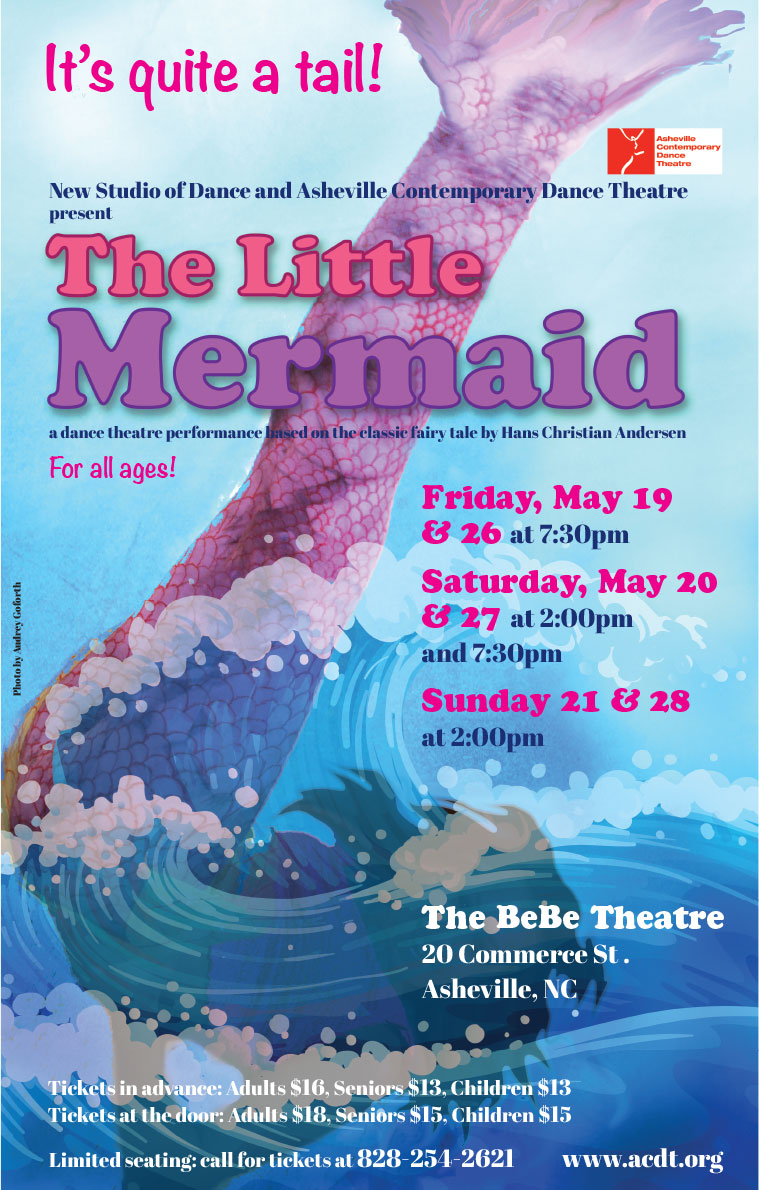 Friday, May 19 & 26 at 7:30pm, Saturday, May 20 & 27 at 2:00pm and 7:30pm, Sunday 21 & 28 at 2:00pm
Paid in advance: Adults $16, Seniors $13, Children $13
Pay at the door: Adults $18, Seniors $15, Children $15
For 38 years ACDT has been producing and creating innovative children's work in theatre and dance. This season, ACDT/New Studio of Dance has selected one of its favorite tales, "The Little Mermaid." This classic and magical fairy tale written by Hans Christian Andersen comes to life with colorful sets, costumes, large animated sea creatures, and the performers of The New Studio of Dance. "The Little Mermaid" recognizes female strength in the form of a beautiful mermaid from a magical kingdom under the sea who after saving a prince from a shipwreck decides to become human to find and win his heart. She drinks a potion from a sea witch, and it turns her tail into legs. She pays for the potion with her voice. Will this heroine's sacrifice win her the love and life she desires or take away her courageous and passionate spirit? Come, see, and find out.
Appropriate for all ages. Limited seating: call for tickets at 828-254-2621
---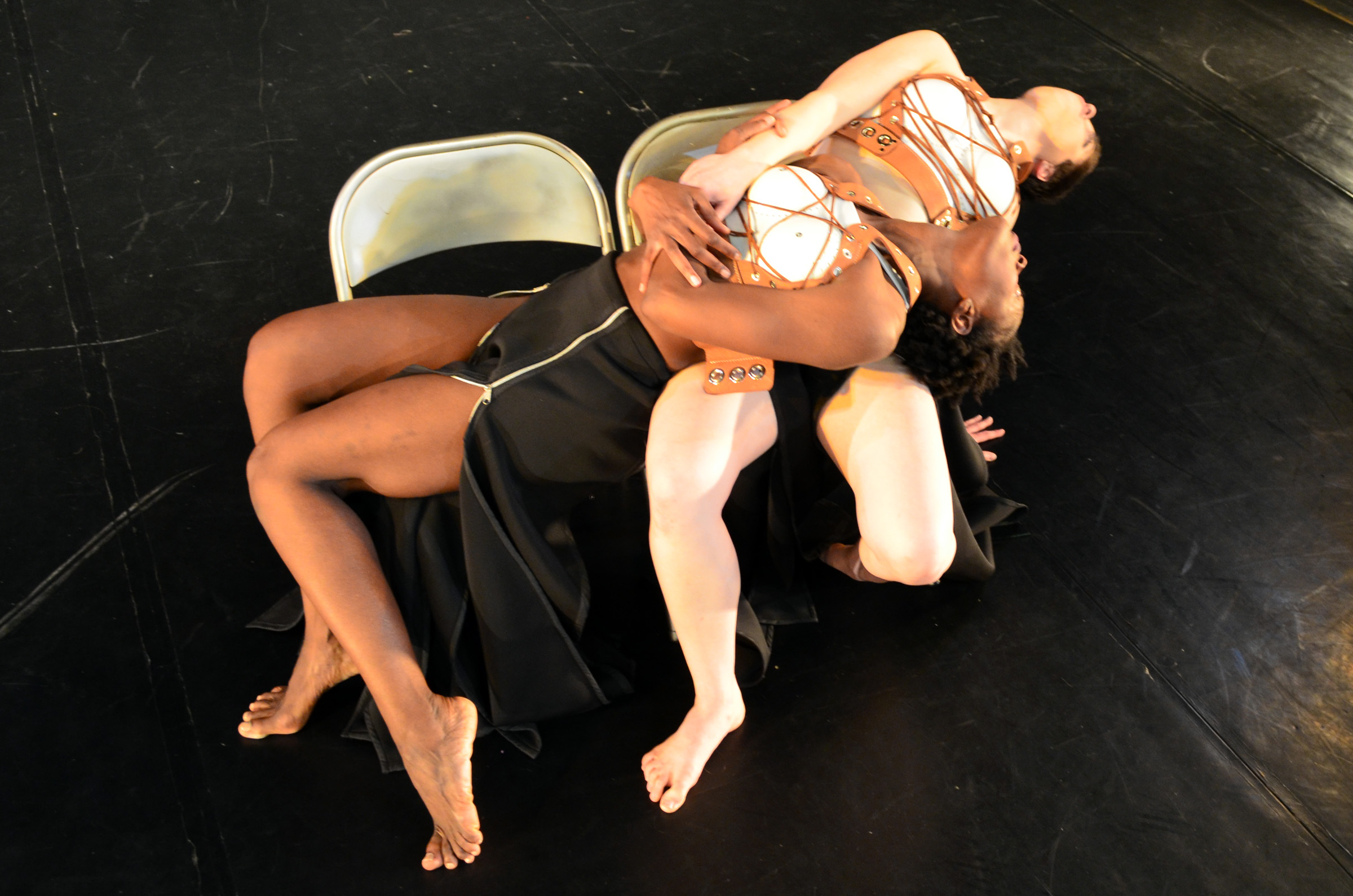 WhiteDog Project and ACDT Presents:
"Sor Juana: The Tenth Muse"
Who: Asheville Contemporary Dance Theatre/White Dog Project
What: Sugar Skulls and "The Tenth Muse:" Día de los Muertos Celebration
Where: BeBe Theatre 20 Commerce Street Asheville, NC 28801
How Much: $17.00 Adults $15.00 Students and Seniors
When: October 28th, 29th at 7:30pm and October 30th at 6:00pm
Contact: acdt.org or 828-254-2621
What: In celebration of 37 years of original modern dance
In a time when women had limited legal and social rights, a woman born out of wedlock had few choices and an uncertain future. Through the grace of her own intelligence and the religion that she constantly struggled with, Sor Juana Inéz de la Cruz, the Mexican nun born in 1651, became one of the first feminists, intellectuals, writers, poets, and artists to choose her own future and change the social views that restricted women.
In ACDT's "The Tenth Muse," Susan Collard and guest choreographer, Jaime Camarena, have choreographed an evening dance show that delves into the life of Sor Juana. It captures her struggles with her own faith and with the Church and government authorities who would try, and eventually succeed, at silencing her poignant, poetic, and insightful voice. The show will contain dance, poetry, singing, and graphic animation.
"The Tenth Muse" will be performed at the Bebe Theatre with choreography by Susan Collard and Jaime Camarena, slow animation and graphics by Rachel Allison Johnson, costuming by Giles Collard and Evelyn Gomez, and performed by the ACDT dance company members. This performance will be a part of ACDT's annual Sugar Skulls showcase that honors The Day of the Dead Festival. Audience members are encouraged to bring a photo or memento of a deceased love one for the Day of the Dead altar.
Asheville Contemporary Dance Theatre (ACDT) is a non-profit professional dance company created in 1979. It was the first modern dance company in Asheville and Western North Carolina. For 37 years ACDT has been producing original modern dance and has collaborated with different artists and choreographers from around the world to host dance, theatre, and art exchanges.
---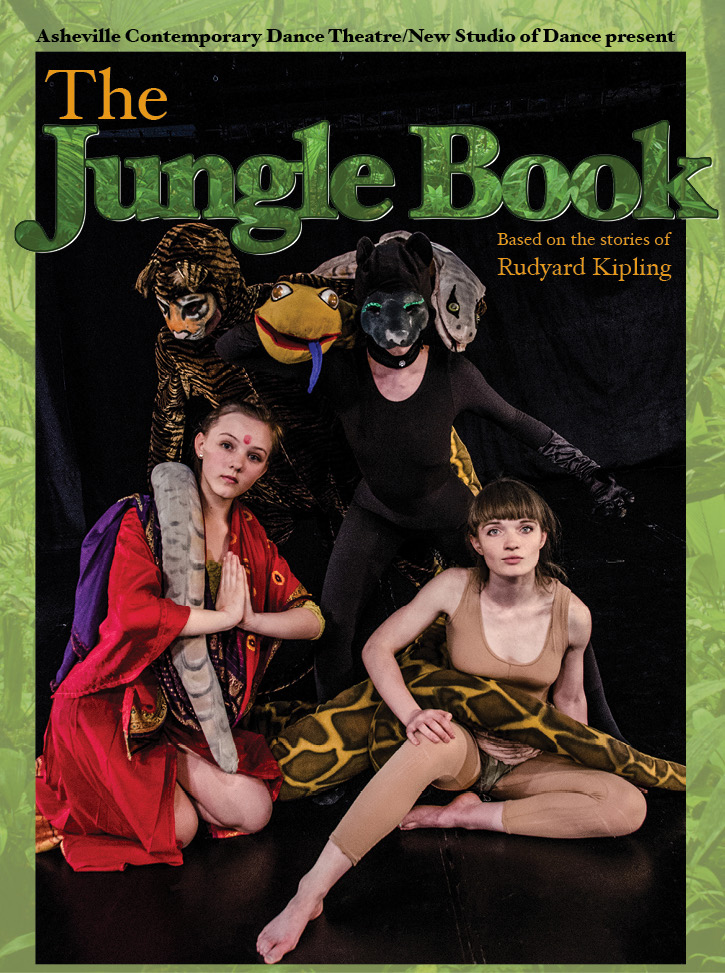 "The Jungle Book"
Dance theatre based on the story by Rudyard Kipling
Friday May 20 & 27 at 7:30 p.m.
Saturday May 21 & 28 at 2:00 p.m. & 7:30 p.m.
Sunday May 22 & 29 at 2:00 p.m.
BeBe Theatre, 20 Commerce Street, Asheville, NC
Advance tickets: $13 for students/seniors; $16 for general admission. Tickets at the box office: $15 for students/seniors and $18 for general admission. Limited Seating, Reserve NOW! (828)254-2621
In May, ACDT & The New Studio of Dance will bring Rudyard Kipling's timely story "The Jungle Book" to life with music and dance, large puppets, colorful sets and costumes.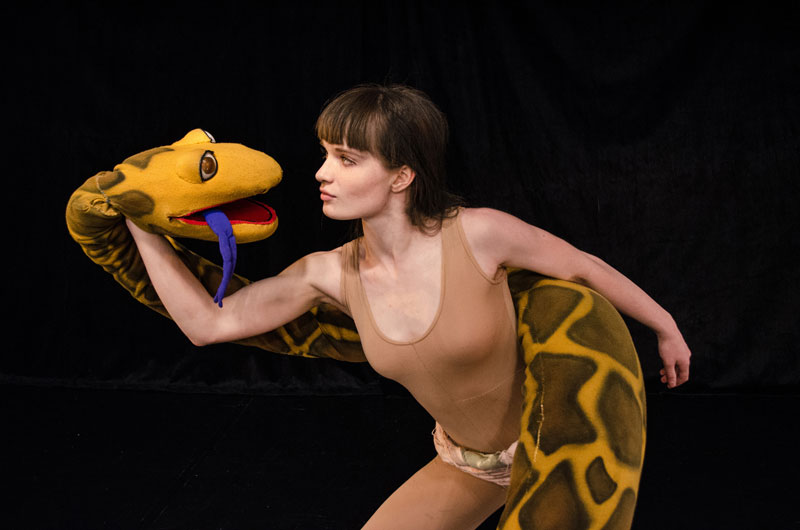 In the jungle of India, a pack of wolves discovers an infant "man-child". She is raised by the wolves and is protected from the man-eating tiger named Shere Khan. Her teachers and mentors are Baloo, the wise old bear, Bagheera, the black panther and Kaa, the rock python. Mowgli, the man-child, learns the language of the jungle very quickly as he frolics with the monkeys and other jungle creatures. He eventually must consider leaving his friends to return to mankind.
By using large puppets and masks, colorful sets and costumes created by Giles Collard, ACDT will bring this classic adventure story to the BeBe Theatre stage.
ACDT is well known in the Southeast and abroad for its innovative choreography as well as combining different cultures into its dance theatre. Not to be missed, "The Jungle Book", based on Kipling's poetry and text will be a performance to delight and entertain the child in everyone.
---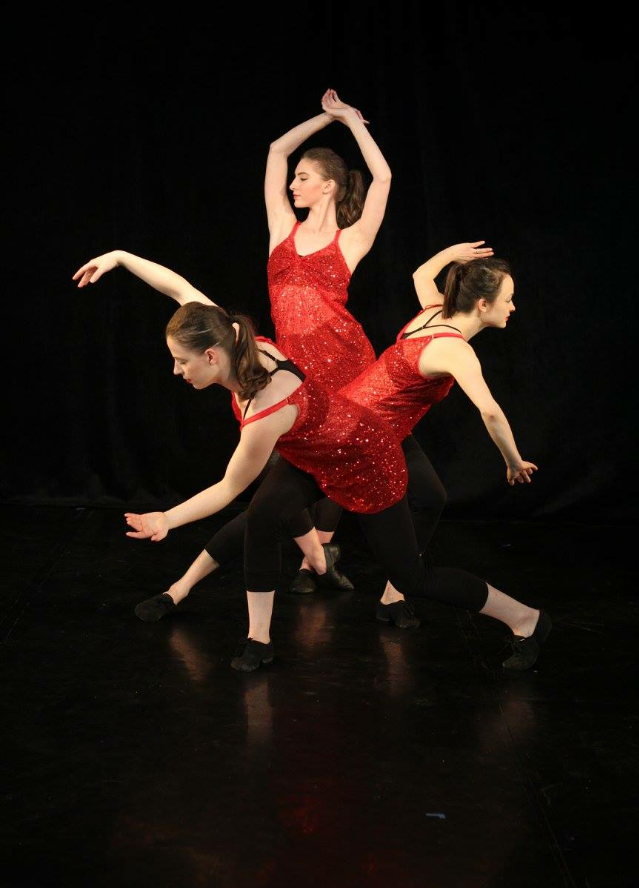 Sharon Cooper and ACDT Presents:
"Motown Memories"
April 29, 30, 2016 at 8:00 pm and May 1, 2016 at 6:00 pm
BeBe Theatre, 20 Commerce Street, Asheville, NC (828)254-2621
$18 for general audience, $15 for students and seniors
Sharon Cooper and Asheville Contemporary Dance Theatre are proud to present "Motown Memories." An exciting, entertaining, moving evening of new contemporary dance at the BeBe Theatre April 29 and 30 at 8:00 pm and May 1 at 6:00 pm. The concert features new work by long time ACDT dancer, Sharon Cooper. Memories of road trips, funnel cakes, heartache, healing and much more will be paired with the music of legendary Motown artists including, The Temptations, Otis Redding and Edwin Starr. This promises to be a wonderful evening of beautiful dancing, colorful costumes and amazing music that will have the audience dancing in their seats and reminiscing about their own memories to the unforgettable songs of Motown.
Sharon Cooper began dancing at the age of 5 at Art-is-House in her hometown of Winston-Salem, NC. She continued her dance studies at UNCSA, first in the after school Preparatory Program and later in the high school contemporary dance department. In 2000, Cooper graduated with honors from UNC-Charlotte, receiving her BA degree in Dance and Communication Studies. After graduation, she moved to Asheville, NC where she began dancing with ACDT.
As a member of ACDT, Cooper has performed throughout North Carolina as well as across the southeastern United States. She has also had the incredible opportunity to perform internationally several times in Havana and Holguin, Cuba as well as Merida and Mexico City, Mexico. Cooper has become increasingly more involved in choreography and the production of shows and has done both in many of ACDT's Dance Salad productions. In 2015, Cooper along with four other local dancers cofounded The Accidentals, an improvisational dance collective, focusing on making dance accessible to all people and performing in nontraditional spaces. She has also worked as a guest artist with other local artists in Asheville.
Motown Memories was inspired by family road trips and the Motown music her parents played (and continue to play to this day) on every one of those trips as well as at home, parties, family gatherings and holidays. Cooper developed a love of this music at an early age and it has become an important part of her and her history. To create this show, she selected some of her most favorite Motown songs that bring back very clear memories, feelings, experiences, emotions and images to tell her story, and to create new memories for herself, the dancers and the audience during the performance.
---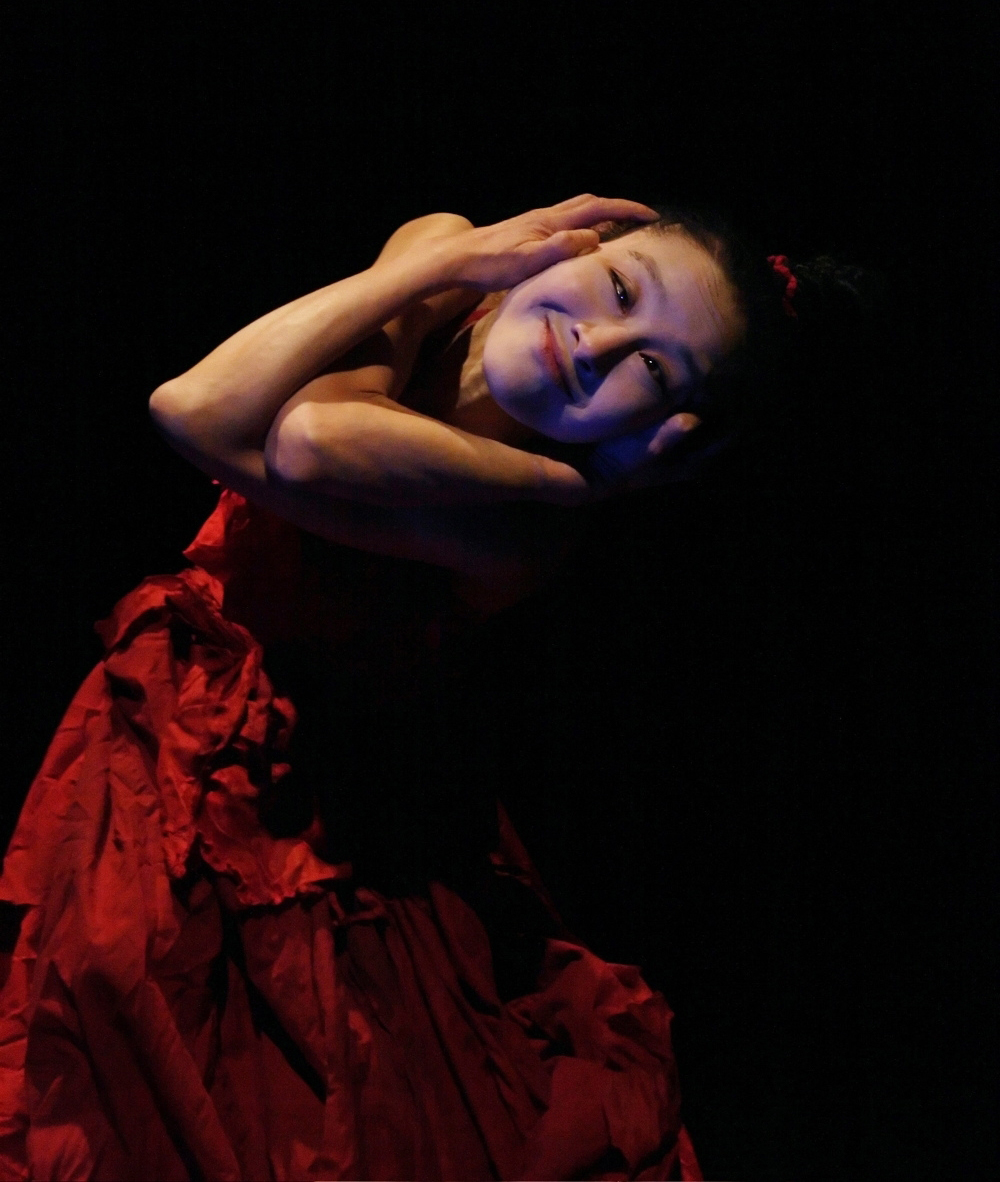 10th Asheville Butoh Festival
2016 marks the 10th Asheville Butoh Festival and twenty years of butoh dance in Asheville. Julie Becton Gillum and the Asheville Contemporary Dance Theatre have collaborated to produce this uncommon festival. For Asheville Butoh's landmark year, we have invited Yumiko Yoshioka, world renowned butoh performer and teacher to share her talents with us. Cities such as Portland, San Francisco, Vancouver, Montreal, New York, Chicago, and Asheville are havens for butoh dance, still finding itself in North America.
In honor of our 10th anniversary we have asked Yumiko to perform her seminal work Before the Dawn, a piece that represents butoh at its most profound level of movement exploration and philosophical inquiry. In this evening length epic, Yumiko Yoshioka, through her own transformation, illuminates secrets in our bodies. Her movement and gestures, execute a divine incantation in which she invites the sublime and monstrous beings from dreams and nightmares to dance with her. Her performances will be Thursday April 7 and Friday April 8 at 7:30 PM.
Yumiko will teach two butoh and organic movement workshops on Saturday April 9 and Sunday April 10, 1:00 – 5:00 PM. Cost is $40 for each workshop or $75 for both. The body is a receptacle of time. Body Resonance is a key to open the ever changing world inside and outside of us. The body unfolds its secrets, holding them up until they reverberate within the surrounding Universe. A dance of metamorphosis inevitably appears. One step to metamorphosis! All levels are welcome to this 8 hour corporeal feast. Performances and workshops take place at the BeBe Theatre, 20 Commerce Street in downtown Asheville.
Local contemporary butoh will feature prominently in the Asheville Butoh Festival. Performances by Sara Baird, Jenni Cockrell, Constance Humphries, and Julia Taylor will highlight this year's anniversary show. Composers Elisa Faires and Meg Mulhearn will make spotlight appearances to accompany in the Local Color show.
Co-produced by Julie B. Gillum and Asheville Contemporary Dance Theatre.
---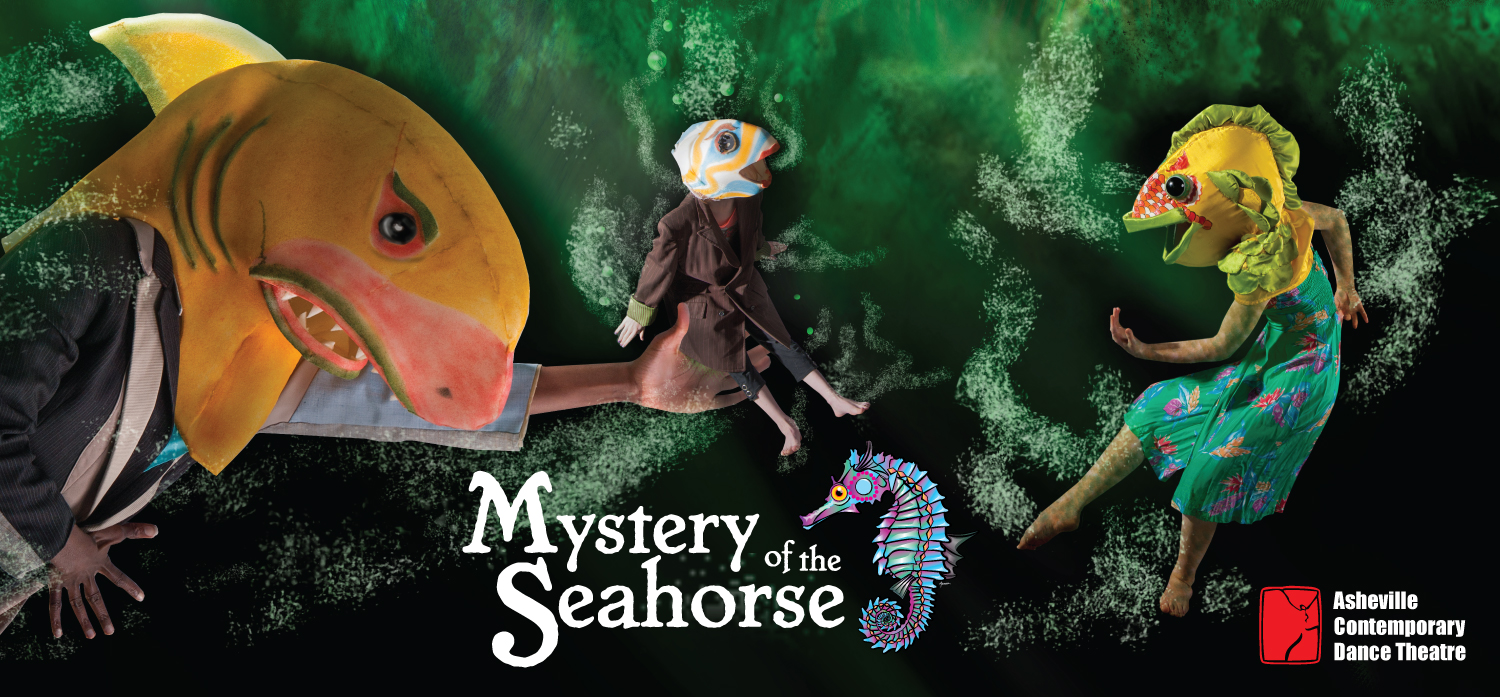 The Mystery of the Seahorse
Asheville Contemporary Dance Theatre and the students of The New Studio of Dance presented "The Mystery of the Seahorse", a thrilling tale of love and bravery. Set in an endangered underwater reef with cartoon-type characters, this story explores the themes of ecology and pollution. A vibrant and colorful performance, "The Mystery of the Seahorse" will not only be entertaining and beautiful, but will also teach the lesson of why we need to keep our oceans clean.
Giles Collard's giant puppet head creations and colorful sets compliment the inventive and original choreography of Susan Collard, the staff of New Studio of Dance and even some of the students themselves. Audiences are in for a treat as they are transported underwater for this lively and entertaining full-length dance theater spectacular.
The New Studio of Dance was established in 1970 and offers a comprehensive and wide-ranging dance education to young students of the community. Not only are there the usual classes in ballet, tap, and modern; but there are also classes in composition, swing, belly dance, and more. As the students become older and more experienced, they help to design their own dance program and are given a lot of creative freedom to discover who they are as dance artists.
---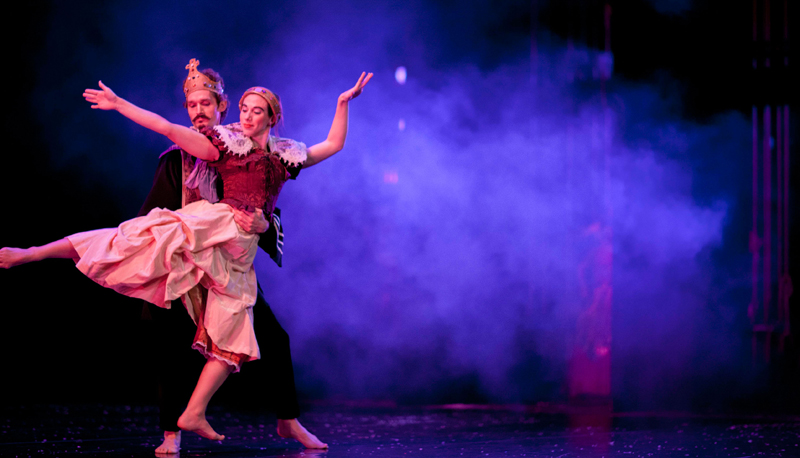 "The Nutcracker & The Mouse King"
A GREAT WAY TO KICK OFF THE HOLIDAY SEASON!
Expect the brilliantly unexpected from Asheville Contemporary Dance Theatre's fourth annual performance of The Nutcracker and the Mouse King. ACDT shocked and surprised audiences last year with their original version of The Nutcracker. Though The Nutcracker might be the world's most famous ballet, if it is being performed by ACDT you can guarantee it is something you haven't seen before. Their version couldn't be farther from Tchaikovsky's famous ballet. It is based on the original and much darker story written in 1816 by German author E.T.A. Hoffmann.
---
"My first graders saw the Nutcracker and the Mouse King last Friday and it was the best performance of the Nutcracker I have ever seen. ArtSpace is
so lucky to have Ms. Mary as our awesome dance teacher. The kids were awestruck to see her on stage. My students were so excited and have not stopped walking like the Nutcracker. The dancers were mesmerizing and the sets and costumes were beautiful! Thank you for all your hard work and sharing your Christmas magic with our community.
Melanie Meador
ArtSpace First Grade Teacher
---
"I always want to go back to the original work" artistic co- director Collard says. "The characters and the story are always so much more interesting." Take for example the King and Queen of Sausages who surprised and delighted last year's audience with delightful humor and the party guests wrapped in gorgeous costumes dancing a wild and wonderful polka. And then there is the famous Mouse King and his lovely wife and their numerous children creating havoc all over the ballet with magical aerialists flying over head creating a surrealism to visually delight all ages.
---
This year's performance features the ACDT adult company, White Dog ProjectX International, and the students of New Studio of Dance. With typical ACDT flair, The Nutcracker and the Mouse King will again prove to be a wonderful Christmas story full of adventure, courage and loyalty where love comes alive in a spectacular modern dance experience.
---
Salad Barre: A Dance Feast
A Spring production offering a variety of dance genres in an evening length performance.
Asheville Contemporary Dance Theater presented an evening of inventive choreography in a variety of dance genres created by ACDT dancers as well as guest artists.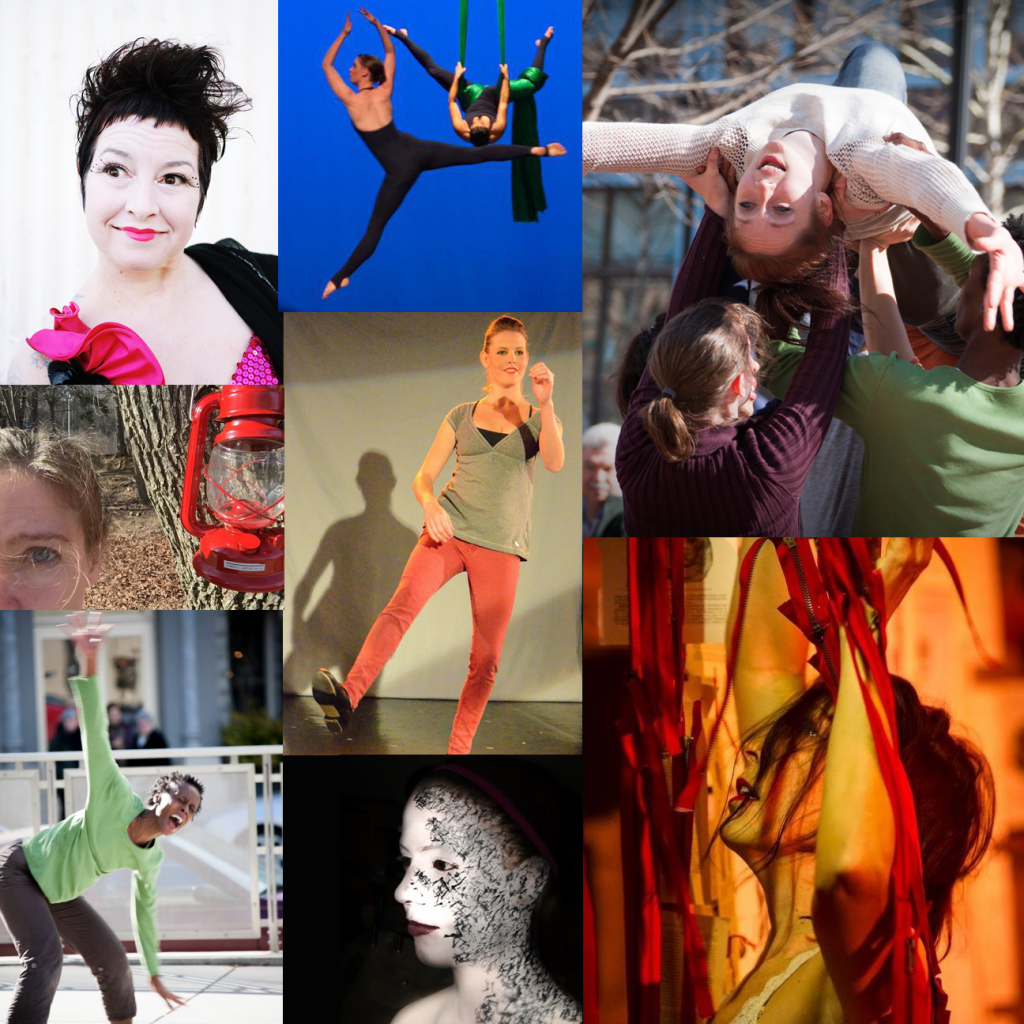 Presented by the Asheville Contemporary Dance Theatre with guest dance artists.
Jenni Cockrell of Strange Daughters Butoh will perform two Butoh solos exploring female symbol and stereotype.
Sharon Cooper's piece is inspired by the Hottentot Venus and deals with exploitation, power, control and destruction.
Amy Hamilton's Cendre is an excerpt from a larger work and is danced by a quartet of teenagers. It is a meditation on the cavities left behind in the ash from those who died in Pompeii.
Megan Jackson presents a tap solo with a new technique, looping sound and rhythm for a unique tap experience.
Abby Keller is an energetic flamenco dancer currently based out of New Mexico.
Sara Keller's modern dance work has a supportive community feeling with seven dancers creating pathways in space.
Kathy Leiner presents Dis-card, a multi-media collaboration with a photographer
Lynne Harty and musician Tom Leiner, which explores the emotional and physical concepts surrounding who/what we discard in life.
Jaime McDowell's tongue-in-cheek modern dance piece reveals the secrets of a childhood friend's diary
---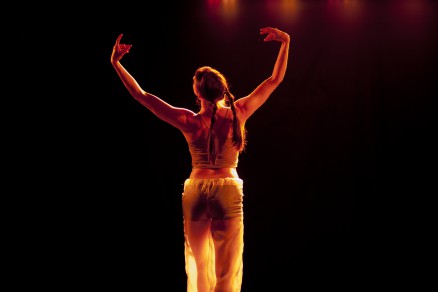 9th Annual Asheville Butoh Festival 2014
Presented by Asheville Contemporary Dance Theatre
Legacy Butoh, in partnership with the Asheville Contemporary Dance Theatre, presented the 9th Annual Asheville Butoh Festival September 2014 at the BeBe Theatre in downtown Asheville.
The Festival, under the artistic direction of Julie Becton Gillum, featured internationally renowned butoh choreographer and dancer Vangeline, along with solo works by Asheville dancers Jenni Cockrell, Susan Collard, Amy Hamilton, Megan Ransmeir, and Julia Taylor. Ticketed performances and workshops open to dancers of all skill levels will be offered.
The unique art of butoh originated in post-World War II Japan as a reaction to the loss of identity caused by the westernization of Japanese culture, as well as a realization that ancient Japanese performing traditions no longer spoke to a contemporary audience. One of the major developments in contemporary dance in the latter half of the 20th century, butoh combines dance, theater, improvisation and influences of Japanese traditional performing arts to create a unique performing art form that is both controversial and universal in its expression.
"We're so fortunate to have Vangeline as the featured artist in the Asheville Butoh Festival this year," said Julie Gillum. "Vangeline believes that Butoh can be a vehicle for collective and individual transformation in the 21st century, and I'm eager for her to share her artistic vision, her extraordinary choreographic skills, and her mesmerizing performances, with Asheville dancers and audiences."
---
LOOKING FOR FRIDA – (Jun 2014)
A Retrospective Performance of ACDT's First 35 Years of Modern Dance
ACDT celebrated with art, music, food and dancing: Our season ended with a performance showcasing the powerful and personal choreography of Asheville Contemporary Dance Theatre's own Founder and Artistic Director Susan Collard.
---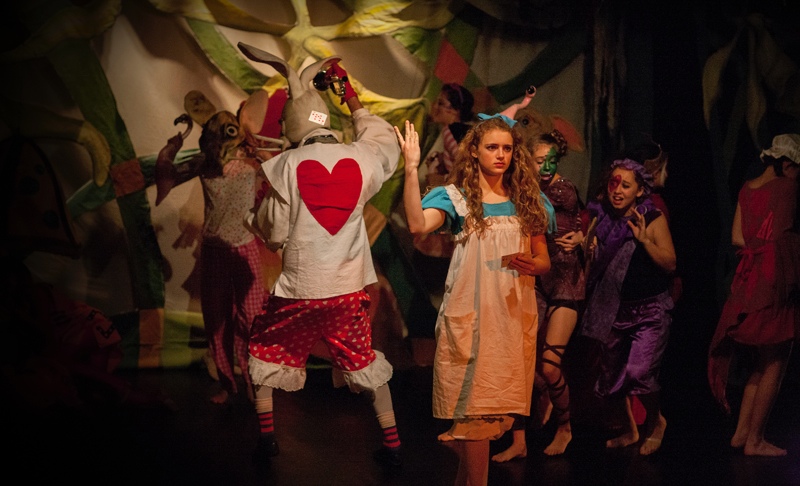 ALICE IN WONDERLAND
Performance by the ACDT Dance Company with students of the New Studio of Dance
---
BIRDS OF WAR – (2014)
Presented by Asheville Contemporary Dance Theatre
ASHEVILLE FRINGE ARTS FESTIVAL – (Jan 2014)
Presented by Asheville Contemporary Dance Theatre
The 11th annual city-wide winter showcase of Asheville's adventurous and vibrant performing arts scene!
—
THE NUTCRACKER AND THE MOUSE KING – (Dec 2013)
Based on the original novella written by E.T.A. Hoffman
This Nutcracker is quirky, dramatic — and above all, fun. A wonderful family event showcasing ACDT dancers and New Studio students of all ages. Wildly imaginative holiday sets and costumes, contemporary music as well as classical — All wrapped up in one choreographic storytelling spectacle. See Photos
—
JUST SOME GOOD DANCE & A SUGAR SKULL – (Nov 2013)
Original choreography by ACDT ensemble and local guests
Some really good dance and Día de Muertos, with ACDT and friends.
—
THE DECENT WOMEN OF CALLE 58 – (Oct 2013)
Repeat production, back by popular demand
ACDT and White Dog Dance Project presented an evening of dance theatre based on the true stories of the women of Mérida's Calle 58, whose work is the world's 'oldest trade'. Inspired by the work of Danish photographer and social anthropologist Christian Rasmussen. Music by Yucatecan composer Alejandro Basulto.
* Mature Audiences only
—