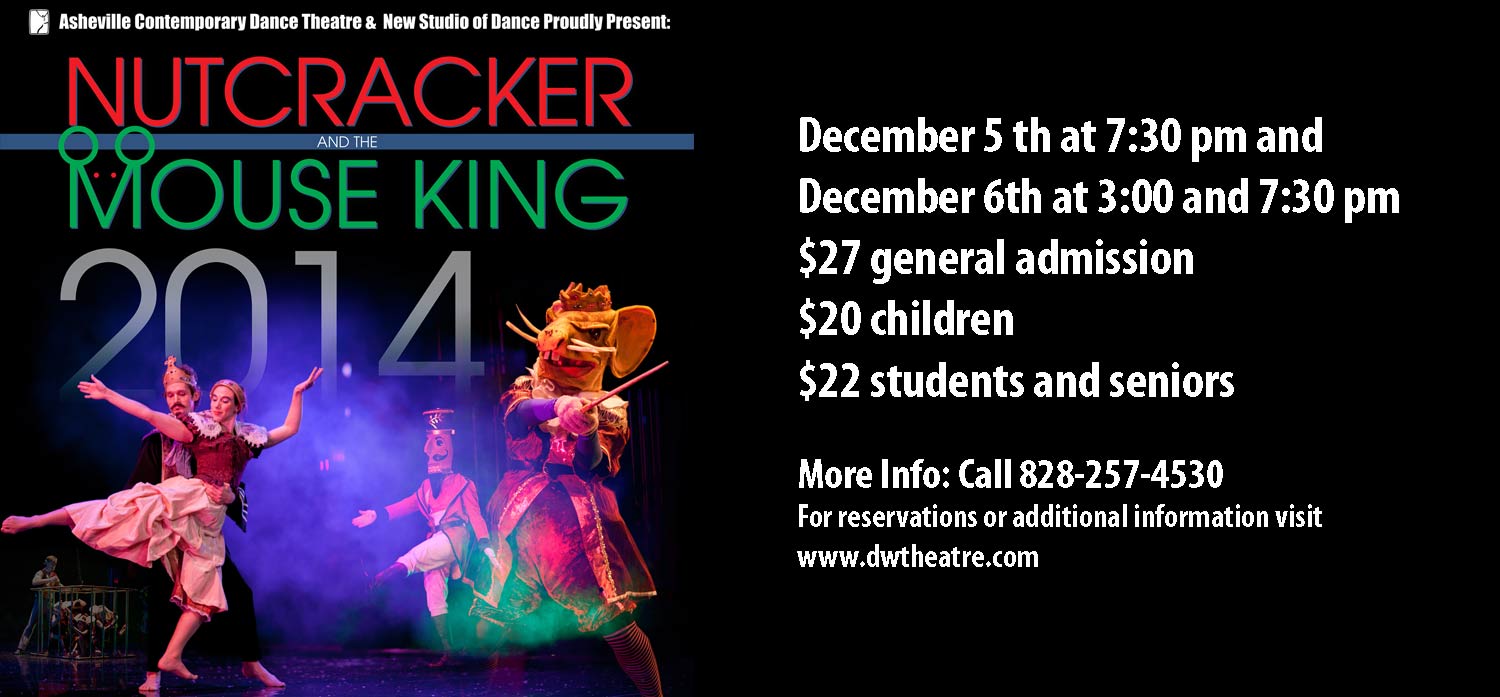 "The Nutcracker and the Mouse King"
Diana Wortham Theatre, Pack Place, Asheville NC 28801
December 5 th at 7:30 pm and December 6th at 3:00 and 7:30 pm
$27.00 general admission, $20.00 children, students and seniors $22.00
More Info: Call 828-257-4530 for reservations or additional information or visit
www.dwtheatre.com
---
 A GREAT WAY TO KICK OFF THE HOLIDAY SEASON!
Expect the brilliantly unexpected from Asheville Contemporary Dance Theatre's fourth annual performance of The Nutcracker and the Mouse King. ACDT shocked and surprised audiences last year with their original version of The Nutcracker. Though The Nutcracker might be the world's most famous ballet, if it is being performed by ACDT you can guarantee it is something you haven't seen before. Their version couldn't be farther from Tchaikovsky's famous ballet. It is based on the original and much darker story written in 1816 by German author E.T.A. Hoffmann.
---
"I always want to go back to the original work" artistic co- director Collard says. "The characters and the story are always so much more interesting." Take for example the King and Queen of Sausages who surprised and delighted last year's audience with delightful humor and the party guests wrapped in gorgeous costumes dancing a wild and wonderful polka. And then there is the famous Mouse King and his lovely wife and their numerous children creating havoc all over the ballet with magical aerialists flying over head creating a surrealism to visually delight all ages.
---
This year's performance features the ACDT adult company, White Dog ProjectX International, and the students of New Studio of Dance. With typical ACDT flair, The Nutcracker and the Mouse King will again prove to be a wonderful Christmas story full of adventure, courage and loyalty where love comes alive in a spectacular modern dance experience.
---
Intermediate/Advanced Silks Workshop
with Nicolas Collard
of Ecole Nationale de Cirque
Sunday, November 30th
$40/one workshop or $70/both!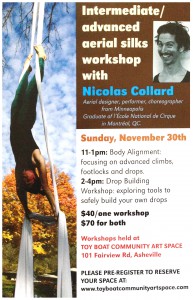 11-1pm: Morning Seminar
In this seminar we'll begin by analyzing proper body alignment; activating the right muscle groups rather than relying on the biceps and rectus abdominus. We'll work to improve your inversions and swim climb at your level, to build strength and ease in the air through correct technique. Movements we'll approach will include: "Free" star drops, i.e. without waist OR thigh wrap; Serpentine climb a.k.a. hips over hands climb; new hand locks and advanced foot keys for smoother transitions; aerial handstands .

2-4pm: Afternoon Seminar: We'll continue our work on connecting muscle groups in exploration of healthier skin-the-cat positioning, hip key climbs, and more dynamic straddle switches. We'll build on options explored in the morning seminar (even if you weren't able to attend) and approach drop composition. What are the necessary building blocks when creating your own drops? I'll give you the tools you need to safely compose your own drops from vocabulary you may already know. We can use the "Blender" drop and a creation of my own as starting points. 

Nicolas Collard: Nicolas' passion for aerial arts began in 2006 with recreational trapeze classes, and grew into an obsession with the aerial fabric which led him to switch careers and pursue this movement discipline full-time. This year he received his diploma as Circus Arts Instructor from the École Nationale de Cirque (ENC- National Circus School), via their 9-month program. After completing his stage at the ENC, he was hired as coach in their recreational youth program. Nicolas also spent his year in Montreal training on the aerial fabric with these esteemed coaches: Anouk Vallée-Charest, Dawn Shepherd, and Téo Spencer. When offering seminars, Nicolas brings his vision of aerial arts as movement poetry, and hopes to pass on what his coaches have given him. 

Register online at http://www.toyboatcommunityartspace.com
---
The 38th Annual Bernstein Family Christmas Spectacular!
The Magnetic Theatre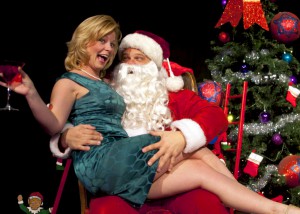 December 4-5, 11-13, 18-20 2014 from 7:30 PM to 9:30 PM (EST)
Tickets: $23.57
Asheville's favorite, raunchy, screwball holiday comedy from The Magnetic Theatre returns this December with The 38th Annual Christmas Spectacular!
The bawdy, bodacious, and boisterous Bernsteins are back, and they've got some special surprises in store for old fans and new friends! Judy Bernstein (Tracey Johnston-Crum, voted best actress in WNC in the Mountain Xpress poll three years in a row) is ready to get up close and personal with audiences at the Bernsteins' most intimate venue yet – the BeBe Theatre in downtown Asheville. "I just can't wait to get cozy—very cozy—with all of Asheville," Judy said with a wink in a recent interview.
The Bernsteins will bring their signature mix of skits, songs, dance numbers, and excessive drinking to the BeBe for a limited run (which will, as with all Bernstein Spectaculars, be for mature audiences only). The show is expected to sell out as usual, so get your tickets early for this year's Spectacular, which the Asheville Scene has called "the Christmas show to see in Asheville."
The 38th Annual Bernstein Family Christmas Spectacular
Performances Dec. 4-6, 11-13, 18-20, 7:30 nightly, with 10:00 pm performances on Fridays and Saturdays, Bebe Theatre, 20 Commerce St (just down from the basement entrance of the Thirsty Monk). Advance tickets highly recommended. All advance tickets are discounted $2 from purchase price at the door.
---
OPEN SCREENING
Tuesday, December 16 at 8PM
BeBe Theatre, 20 Commerce St., Downtown Asheville
FREE
Calling all Asheville makers… the screen is yours! Share your work with a live audience! Maximum length is 10 minutes. Any genre! Any style! It can be old, new, or a work-in-progress. We want to see it.
Formats accepted: DVD, QuickTime or MPEG file, 16mm, and Super 8
Submit work early by email: yayforfilm@gmail.com or just show up with your piece and we'll watch it together. First come, first served, as time allows.
There will be short discussion after each piece with a chance to gather feedback from the audience.